We've stepped into 2018, and there's plenty of cinematic ventures to get excited about. Over 11 months of cinema is headed our way, so let's see which films have me the most intrigued.
Annihilation
Release Date:
23rd February (released on Netflix in the UK)
In 2015, Alex Garland made a phenomenal debut with
Ex Machina
, an intelligent and engrossing science fiction tale led by a stunning ensemble of actors. His follow-up looks to be a science fiction tale that's just as intelligent and engrossing, following a stunning ensemble of soldiers who step into an environmental disaster zone, where the laws of nature do not apply.
Ant-Man and The Wasp
Release Date:
July 6th (US), 3rd August (UK)
In spite of the much publicised behind the scenes drama of
Ant-Man
, Peyton Reed managed to deliver a humorous film which fit especially well within the MCU, without feeling constricted by the need to set up so much in the larger universe. The sequel, described as a romantic comedy, grants a larger role for Evangeline Lilly, while integrating a stellar cast into the fold. Can't wait.
Aquaman
Release Date:
December 21st
Despite the troubled state of the DCEU, there's hope still within this director driven project. James Wan has been attached for quite a while now, showing his eagerness to deliver the film which will change the long-held perception that Aquaman is a joke of a character. He's shown he can handle action sequences, craft engaging characters, and deliver exciting cinematic adventures, so count me in for this one. Especially with Jason Momoa reprising the role he had a blast with in
Justice League
.
Avengers: Infinity War
Release Date:
April 27th (UK), May 4th (US)
It's hard to believe the Marvel Cinematic Universe has been going for 10 years, and it's especially unbelievable we're edging closer to a finale to this incarnation of the Universe. The various characters intersect together to face Josh Brolin's Thanos, the big bad who's been built up for the past 6 years. The chance to see so many of these characters intersect with one another is too tantalising to pass up, but the chance to see them handled by the Russos, who were responsible for two of the MCU's best entries, seals the deal for me.
Black Klansman
Release Date:
N/A
Based on a book of the same name, an African American detective infiltrates a local chapter of the Ku Klux Klan, eventually rising to become the head of said chapter. An intriguing enough premise in its own right, but also produced by Jordan Peele, and directed by Spike Lee? Here's hoping for something that plays to both of their strengths.
Black Panther
Release Date: February 13th (UK), February 16th (US)
After his scene stealing performance in Captain America: Civil War, Chadwick Boseman gets his own feature film to show mainstream audiences why T'Challa, ruler of Wakanda and the Black Panther, is an important character in the Marvel universe. With Ryan Coogler delivering his third feature film after two phenomenal pieces of cinema, what's been called Marvel's answer to James Bond boasts a killer cast, a unique style which sets it apart from other genre films, and looks to provide some much needed representation. But when a film like this has been delivering stunning trailer after trailer, how can I not be excited for this?
Boy Erased
Release Date:
September 28th
Joel Edgerton is best known as an actor, but has shown his talents for screenwriting multiple times, culminating in his directorial debut with 2015's absorbing and tense thriller,
The Gift
. His second features sees Lucas Hedges play the son of a small town pastor who, upon being outed as gay, is pressured into attending a gay conversion therapy program, or else he'll be shunned by all. It's the kind of premise which sounds gripping, and if his previous film is anything to go by, we're in for a tense time.
The Burial of Kojo
Release Date:
April 19th
Here's one which I hadn't heard of before, but upon reading what its about, I could not wait to witness unfold on the big screen. The eponymous Kojo recklessly causes a car accident, killing his brother Kwabena's bride on their wedding day. The result is a revenge narrative which sounds gripping, and from the still images, looks to be a visual treat.
Creed II
Release Date:
November 21st
Continuing on the Rocky legacy through the journey of Adonis Creed, long lost son of Apollo Creed, could have been a risky venture, but it absolutely paid off thanks to the phenomenal talents of Ryan Coogler, and the cast. Coogler may have moved onto other projects (also on this list), but the story is continuing with the next step in Adonis' story. This time, he'll confront the man who killed his father, Dolph Lundgren's Ivan Drago. Hopefully this doesn't devolve into a modern day remake of the cartoonish
Rocky IV
, but after how wonderful the prior instalment was, it's worth giving a try.
Deadpool 2
Release Date:
May 18th
After the arduous journey to get the Merc with the Mouth his own feature film, it's hard to believe we're getting a sequel released rather soon. Directorial reigns have passed over to David Leitch, whose handling on
Atomic Blonde
and
John Wick
brings glee for what we could witness from the action scenes, while the promotional material showcases the returning screenwriters will bring the same humour which made its predecessor such a hit. Plus, Josh Brolin as Cable, and Zazie Beetz as Domino? Wonderful.
Early Man
Release Date:
January 26th
Throughout their wonderful filmography, Aardman have proven themselves to be a unique and hilarious voice in cinema. As such, their latest release is a welcome sight, looking to deliver more of the studios strengths. With a tremendous cast lending their vocal talents to stop-motion Cave Men, who ready themselves for the looming threat of the Bronze age, it's safe to say this'll be a unique entry into 2018 cinema.
The Favourite
Release Date
: N/A
Considering his cinematic output includes films like
Dogtooth
and
The Lobster
, Yorgos Lanthimos has proven himself to be a director like no other, with each subsequent film being quite anticipated. His latest stars Olivia Coleman as Queen Anne, whose relationship with her lover, Duchess Sarah Churchill (played by Rachel Weisz), is turned upside down by the arrival of the Duchess' younger cousin, played by Emma Stone. A three hander about the shifting balance of power, portrayed by such a phenomenal cast? Sign me up.
First Man
Release Date:
October 12th
Fresh off winning the Oscar for Directing, Damien Chazelle moves from his jazz infused love letter of Hollywood, to the space race of the 1960s, and the mission to land a man on the moon. Ryan Gosling will star as Neil Armstrong, leading a wonderful cast to help bring such a phenomenal story to the screen, adapted by the writers of
Spotlight
and
Guardians of the Galaxy
. Consider me intrigued.
Freakshift
Release Date:
N/A
Ben Wheatley is an incredibly versatile director, delivering numerous fantastic films throughout a variety of genres. His next release sees nocturnal creatures rise at night to terrorise people, leading to a band of misfits forming to kill them, compromising of Alicia Vikander, Armie Hammer, and Sasha Lane. Can't wait.
Ghost Stories
Release Date:
April 13th (UK)
Dual directors Andy Nyman and Jeremy Dyson adapt their stage play of the same name, which sees a skeptic investigating three cases of hauntings, looking to debunk them with scientific rationale. This kind of scenario never ends well, so we'll have to look forward to seeing scary occurrences happen to Martin Freeman and others. Considering the rave reception to both the stage play, and the early viewings of this film, this looks to be a spooky treat.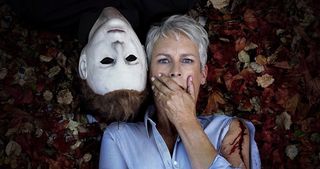 Halloween
Release Date:
October 19th
40 years after John Carpenter's own horror classic was released, . indie darling David Gordon Green directing may seem like a left field choice, especially while sharing screenwriting duties with Danny McBride, but they've made their intent clear: to return to the dread and tension which made the original so unnerving, as opposed to the blood and gore many modern films are guilty of. With the return of original scream queen, Jamie Lee Curtis, as well as original director John Carpenter being involved, this looks to be a return trip to Haddonfield worth making.
The Happytime Murders
Release Date:
August 17th
A film that's been in development since 2008, it looks like we'll finally see this puppet thriller come to cinemas just 10 years later. From Brian Henson, who's been involved with the Muppets for a long time and even directed
Muppet Christmas Carol
, this feature follows a puppet private eye investigating a serial killer who's targeting cast members of an 80s show. Here's hoping it'll be played straight like the Muppet festive classic, there's promise within this premise.
Hold the Dark
Release Date:
N/A
With the combination of
Blue Ruin
and
Green Room
, Jeremy Saulnier has made a name for himself in directing tough films that's a far cry from Hollywood's typical glamorisation of violence. His latest sees a writer hired to track down a missing six year old in the Alaskan wilderness, after the deaths of three children suspected to be by wolves. If his previous two features are anything to go by, don't expect an easy-going feature.
If Beale Street Could Talk
Release Date:
N/A
After giving us the gift that was
Moonlight
, the follow-up feature of Barry Jenkins is more than welcome on this list. Adapting James Baldwin's novel of the same name, a woman in Harlem races against the clock the prove her fiancee's innocence, while carrying their first born child. Described as "a celebration of love told through the story of a young couple, their families, and their lives", this is highly anticipated.
Incredibles 2
Release Date:
June 15th
It only took 14 years, but we finally have a sequel to Pixar heroic hit (which is also the closest we have to a good Fantastic Four film). Taking place immediately where the last film left off, the Parr family are left to battle The Underminer. Following that, Bob is left to look after the family, and discover the abilities of baby Jack-Jack, while Helen is out fighting crime. With original director Brad Bird back to write and direct, here's hoping this is more of a
Toy Story 2
, and less of a
Cars 2
.

The Kid Who Would Be King

Release Date: 28th September

7 years after making a superb directorial debut with Attack The Block, we finally get to see a follow up from Joe Cornish. The picture follows a young boy who discovers the mythical sword Excalibur, which leads to him and his friends having to thwart the villainous Morgana, played by the phenomenal Rebecca Ferguson. With Patrick Stewart providing support as Merlin, this looks to be a unique take on the Arthurian legend, and it's all uphill after King Arthur: Legend of the Sword.
The Nightingale

Release Date: N/A

After making quite the debut with 2014's The Babadook, Jennifer Kent makes her follow up with a revenge thriller set in 1825. A young convict woman seeks revenge for the murder of her family, taking an Aboriginal male outcast with her through the interior, getting much more than she bargained for. If Kent's sophomore film is any bit as creepy as her debut, we're in for a treat. Here's hoping for no irritating children, though.
The Predator
Release Date:
August 3rd
After starring in John McTiernan's 1987 film
Predator
, Shane Black moves onto writing and directing the newest instalment of the franchise. His directorial style has delivered films that are uniquely subversive, wittily written, and a great deal of fun, so his hiring onto this film inspires hope, especially in an attempt to return to the intimate style of the original. Plus, who can argue with such a great cast?
A Quiet Place
Release Date:
April 6th
Considering how the horror genre often resorts to LOUD NOISES in an effort to make audiences jump, a film centred around avoiding making any sounds is a tantalising proposition. Emily Blunt and John Krasinski star as a mother and a father, living out on a farm and hiding from a supernatural evil that's attracted to any kind of sound.
Ralph Breaks The Internet: Wreck-It Ralph 2
Release Date:
November 21st
2012's
Wreck-It Ralph
was a heartfelt tale led by wonderfully realised characters, wrapped in adoration for video games as a whole. Director Rich Moore returns to expand upon the world, as Ralph and Vanellope go into the world wide web, explore internet culture, and meet every single Disney Princess. Plus, it allows for Disney to capitalise on their purchasing of
Star Wars
and
Marvel
, by allowing for the franchises to finally appear in their films.
Spider-Man: Into the Spider-Verse
Release Date:
December 21st
While their partnership with Marvel Studios has resulted in Tom Holland portraying the current incarnation of Peter Parker, Sony are looking to other webcrawer related properties to release in the popular superhero climate. The method which holds the most promise is this animated feature, a gorgeous, wonderfully stylised animated feature which gives Miles Morales his chance to jump to the big screen. The title especially holds promise, hinting at the Spider-Verse event where wallcrawlers from countless alternate universes joined forces. Here's hoping for cameos from Tobey Maguire and Andrew Garfield.
Widows
Release Date:
November 16th
The fourth directorial effort from Steve McQueen, that would be enough of a reason to get excited for this film. Add onto that a phenomenal cast list, and the script is co-written with
Gone Girl
author/screenwriter Gillian Flynn, four widows have to step up to finish a heist attempt which their deceased partners failed.
A Wrinkle In Time
Release Date:
March 9th (US), March 23rd (UK)
I have no prior knowledge Madeleine L'Engle's novel upon which this film is adapted from, where three peculiar astral beings send a young girl, her brother and her classmate to rescue her astrophysicist father from a universe-spanning evil. Being directed by the phenomenal Ava DuVernay is what alerted me to this feature, but the eclectic cast, the intriguing premise, and the stunning visuals have completely left me sold.
You Were Never Really Here
Release Date:
April 6th
Having already seen this one, I'm more than excited to watch it again upon its cinematic release. Lynne Ramsay's thriller is brutal and unflinching, but the focus isn't on gore or violence. Imagine
Taken
, if the focus was upon the fractured psyche of our lead, phenomenally portrayed by Joaquin Phoenix.
What films are you looking forward to? Has this list made you aware of any great sounding films? Sound off below.