January is done and dusted, so we're already a month into this entirely new year. A few more looks at revered features from the past decade, prominent films from 2019, and bouts of horror dominated this months watches. So, let's see what I viewed over this past January.
Fast Color
(2019) - 4.5/5 - A gripping look at 3 generations of women, and an original take on superpowers.
The Fanatic (2019) - 0.5/5 - This film wants to be a lot of things, but just can't measure up. It wants to be a dark tale about obsession and doing whatever possible to achieve your goals, but it comes off like a watered down version of Joker, which itself wanted so desperately to be The King of Comedy, or Taxi Driver. It wants to be about the relationship between obsessive fans and celebrities, but it's ultimately just killing time until the grisly stuff comes about. It wants to be a showcase for John Travolta's acting talents, but is just a reminder of what he did in Gotti, pulling off another misjudged performance that's utterly cartoonish. By the end of it all, I'm left to wonder what the point of it all was, and I have no real answer.
The Gentlemen
(2020) - 2/5 - What could've been Guy Ritchie going back to basics is too convoluted, and regressive.
Dracula (1931) - 4/5 - The further I step into the classic films of the Universal Monsters, the more I fall in love with it. Tod Browning's Dracula is no exception, as this is a compelling story which never outstays its welcome, with chilling moments throughout. I do wish it was a bit longer, though, as some moments left out felt a bit needlessly "fill in the blanks" for the audience, but that's just a little issue of mine. It's no wonder Bela Lugosi became so iconic as the titular character, playing the role so sinister and alluring.
Just Mercy (2019) - 3/5 - In telling the true stories of Bryan Stevenson and Walter McMillian, Destin Daniel Cretton has gone into this film with the best of intentions. The co-writer and director approaches these men's stories with such empathy, highlighting grave injustices through one key case, as Stevenson seeks to get the wrongfully convicted McMillian off death row. The cast put great performances into their roles, no matter the size of their role, or how wobbly their accent is. Although, the story is delivered in an overly-familiar fashion seen many times before, and one wishes Cretton could've approached the narrative in not so safe a manner, and the amount of To Kill A Mockingbird references feels heavy-handed. Although, none of this nullifies the emotional impact that are delivered by the time the credits run.
Best film of the month & Best film rewatched: Blindspotting
Girlhood (2015) - 5/5 - Of all the discoveries I've made over this past decade, this ranks up there among my favourites. Céline Sciamma captures a story about touching friendships, woven into the lifestyles within a poor Paris suburb, where societal pressures and an abusive household weigh heavily on the life of lead character Marieme. The tremendous cast and the terrific direction delivers a phenomenal piece of work, and it delivers one of 2010 cinema's most perfect scenes, as we witness friends dancing to Rihanna's "Diamonds", where the issues of their realities fade away, and they get lost in the perfect moment of utter happiness. I adored this piece of work.
The Killing Of A Sacred Deer (2017) - 4/5 - Further proof that Yorgos Lanthimos is one hell of a unique director,
The Killing of a Sacred Deer
is a powerful piece of originality which I won't be able to shake easily. An odd film that can be pretty damn hilarious, just for the manner in which the characters speak. At times, this element took me out of the film, but I can't deny the power this film held over me. From early on, I was left on edge just from how shots were framed, and continued unbroken, while the sound design played to the full effect. It reminded me of what Stanley Kubrick did with The Overlook Hotel in
The Shining
, as I was left unsettled by it all, but I couldn't tell you why. In short, it's a pretty intense piece of work which left me unnerved, as the phenomenal performers each did a fantastic job. It was also one hell of a film to put on late at night.
The Social Network (2010) [rewatch] - 5/5 - A decade on since it's release, and David Fincher's big-screen film about Facebook remains an engrossing story about one man in the quest to see his vision realised, even if it costs him his only friend. Between Fincher's exceptional direction, Aaron Sorkin's smart script, and the powerful score by Trent Reznor and Atticus Ross, your attention is held captive all throughout.
It also captures the decade pretty well, as this rise of social media comes at the behest of individual privacy, and his site about connecting leads to him being even more alone by the end of it all. Eisenberg's portrayal of Mark Zuckerberg feels like a patron saint for incels everywhere, as the film's events are incited by his misogynistic actions, which lead to more casual misogyny in its wake, followed by his nonchalant apology to any women who MAY have been insulted, and making himself the victim due to others not having a sense of humour. Jesse Eisenberg does exceptionally in what remains his best role, and while she's in a few scenes, Rooney Mara is an outstanding counterpoint to give Zuckerberg some much needed hits of reality biting him in the ass.
A story about how lonely it gets at the top, all to see your vision realised, this feels like a
Citizen Kane
for the 21st century. That feels even more appropriate when they didn't get the Oscars they deserved, but at least won for their screenplays. One of the best films to come out of the 21st century.
Monkey With A Gun (2016) - 2/5 - Directed by Graham-John Salvaterra, this short film takes aim at gun violence in the U.S, depicting the paranoia which leads to such a thing, the fallout which comes, and the tragic loss of life. The creators described this as being like a South Park episode, and while the best of intentions went into this, I can't call myself a fan. The comedic elements and emotional beats aren't as successful as the creators intended, while the low budget is highlighted by the settings, in glaring ways. It's a shame, especially when the cast are giving it all they have, but it's always good to see committed individuals putting their passion into their project. If you want to check it out for yourself, the short film can be found
here
. It's only 12 minutes of your time.
Picture Day (2015) - 3/5 - A small scale little short depicting a tough relationship a teenage daughter has with her alcoholic mother, as Picture Day approaches for the former. It's well composed, with the two leads putting in good performances, but by the end of it, I wondered what the point was. Still, it passed the time pretty well at only 5 minutes in length. If you want to check it out for yourself, the short film can be found
here
.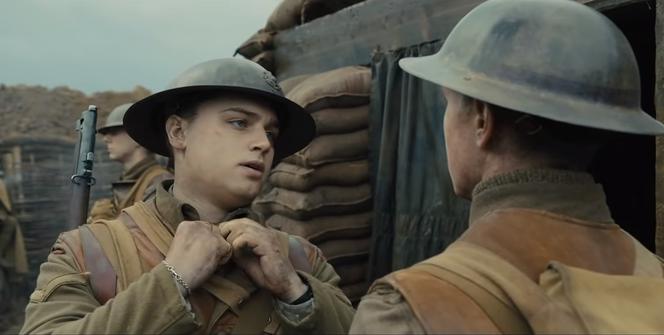 Best film watched in cinemas: 1917
Bambi Meets Godzilla (1969) [rewatch] - 4/5 - Every now and then, I return to this minute long short, and have a lovely time watching the simplicity of it all, and how effective it all is. To be honest, I found it much preferable than
Godzilla: King of the Monsters
. It can be found to watch right
here
.
Don't (2007) [rewatch] - 4/5 - Edgar Wright dips into horror with this fun trailer which played during
Grindhouse
, poking fun at typical horror cliches, while delivering it with genuine craft. Watch it
here
.
Shoplifters (2018) - 5/5 - The first film I've seen by Hirokazu Kore-eda, and it's a humanistic masterpiece that's positively bursting with empathy. A story about family, and how it isn't just borne out of blood relatives, this is a phenomenally made feature that's emotional, from top to bottom.
120 Seconds To Get Elected (2006) - 3.5/5 - A short film by Denis Villeneuve, it simply depicts a politician trying to sway the people to elect him through a constantly changing speech, in 2 minutes. Front and centre is Alexis Martin, playing the politician very well, in a short which feels all too familiar today, when the likes of Trump and Johnson are world leaders. It can be watched
here
.
Best film watched for the first time: Shoplifters
Loqueesha (2019) - 0/5 - The brainchild of Jeremy Saville, the man who serves as writer, director and star of this film. I blame this horrific endeavour entirely on his shoulders.
The story is about a white man who everybody thinks is hilarious and insightful, while seemingly fighting over one another to compliment him in the slightest way (Well, with the exception of his ex-wife, because they MUST hate one another). Because white men have it bad, he can't get a job as a radio host, so must get the job through a REALLY stereotypical impersonation of a black woman. Awful premise, right? Saville must have gotten some notes about it, as he throws in some moments of his character being rightly told how awful his actions are. It's all pointless, though, as the film tries to have it's cake and eat it. His character tries to address his awful actions, while still enacting them, which is the equivalent of somebody stabbing you, and commenting on how awful his actions are inbetween each stab.
Of all the characters who find out about this horrific idea, the only person who actually challenges him about it is a black woman that's made out to be the villain, and is only in it for the money. It feels like an ego-driven affair made by a more conservative Tommy Wiseau. I implore everyone to not watch this, give your time to something deserving of it instead, like
The Farewell
.
Blindspotting (2018) [rewatch] - 5/5 - An absolutely fierce piece of filmmaking by Carlos López Estrada, it remains as powerful, humorous, and absorbing as it was upon first viewing. Central to it is a long-enduring friendship, captured so phenomenally through the joyous moments, and the disagreements. Right up to the tense-filled moment of freestyle rap, this is a film that'll stay with me.
Jojo Rabbit (2019) - 4/5 - After making his directorial style known to his widest audience yet, Taika Waititi brings alive this passion project of his. Telling the story of a Hitler youth, this anti-hate satire is told in the vein of Mel Brooks' work, and successfully details the saddening idea of how hateful ideology can affect a young mind. What's left is a heartfelt & humorous tale which packs a necessary punch, although there were moments when the humour undercut some darker elements, such as a Gestapo scene, and Sam Rockwell's character could've used a bit more of an arc to sell where he goes. Still, this is a wonderfully portrayed feature, and a great feature all-round.
Bombshell
(2019) - 1.5/5 - A misguided and hollow try at tackling this real life story.
Biggest Disappointment: Bombshell
The Farewell
(2019) [rewatch] - 5/5 - As emotionally affecting as when I first saw it, I still adore this story about the lies we tell to those we love. It's a tragedy this was snubbed from the Oscars.
Bad Boys (1995) - 2/5 - This early feature in Michael Bay's career is pretty representative of his work, as the women are poorly handled, the films stops for characters to excessively point out they're not gay, and the mayhem is so excessively done. The latter is a distinctive point for the director, and is so fun that it's a saving grace, considering the lead up to it feels so laborious to get through. The plot is a standard buddy cop actioner, but the main duo have to pretend to be each other, and it ends up serving little purpose in the overall product. Will Smith brings his natural charisma to screen, showing us the star who would rightfully become an A lister, but this is countered by Martin Lawrence being shrill and irritating. While Smith's character is definied as a loose cannon that's rich, who wanted to be a cop more than anything, Lawrence's character is defined by how he's not having any sex. Pretty limp scriptwork, tbh.
1917 (2019) - 5/5 - What Sam Mendes has crafted here is utterly exceptional feature. Between Thomas Newman's brilliant score, and Roger Deakins' stunning cinematography, what's been made is a gripping piece packed with tension, while impressively being hand-stitched together, so the entire feature looks like it's been shot in one take. Central to the proceedings are George MacKay and Dean-Charles Chapman, putting phenomenal portrayals into the films anchors, keeping you emotionally invested through the smallest of moments, while the horrors of war are all laid bare before your very eyes.
Häxan (1922) - 4/5 - What Benjamin Christensen has made here is utterly fascinating. A documentary examining witchcraft through the ages, attitudes towards such a thing, and how everyday things we know about today were misconstrued as meanings one was possessed. Within all of that, we get recreations of the horrific things those declared as witches had to endure. This 98 year old film is very stylish, informative, and captivating. It's also easy to find, and worth the watch.
Biggest Surprise: Ginger Snaps
The Grudge (2004) - 3.5/5 - Takashi Shimizu adapts his own feature film for American audiences, and considering how lacking the remakes of this era could be, this is a fine example of how to do this right. For starters, keeping the film centralized in Japan allows for the American characters to feel isolated and alienated, as though they're facing personal horrors before Kayako ever appears. Also, the story has been wisely streamlined, by centering on Sarah Michelle Gellar's character, and being rid of extraneous subplots. This made the feature feel more focused, while the story allows us to get engaged with the key figures. Unfortunately, I just wasn't scared by any of it, but I would choose this remake over the 2002 original.
The Grudge (2020) - 2/5 - Acting as a side-sequel to the 2004 remake, Nicolas Pesce revives the franchise Takashi Shimizu created nearly 20 years ago. It certainly wants to keep the spirit of the original, as a central character copes with their curse, while the film also looks at those also connected through the curse. What doesn't help is how the narrative flits all over the timeline, leaving you hanging on storylines until later, as they're spaced out for no good reason.

Whether it's explaining backstories, or connecting to the 2004 remake, the script approaches things in a heavy handed manner. The cast do better jobs selling their characters, with John Cho and Betty Gilpin especially leaving me wanting to see more about these people stuck in the middle of a horrific ordeal. But each story needed more time to space things out, as it rushes through emotional items, while spending time unnecessarily spelling things out for the audiences. But most unfortunate is how this horror film just isn't scary, as the tension is replaced by a reliance on half-hearted jump scares.
Night of the Demon (1957) - 4.5/5 - Well, colour me impressed. Jacques Tourneur crafts a tense story of scepticism meeting supernatural belief, as an American professor finds his beliefs questioned through his investigation into a cult lead, which supposedly left him cursed. It's a story told so very exceptionally, as it's told in a gripping manner throughout, with the slightest sights of the supernatural impressing in their short moments.

Dana Andrews captures his sceptic professor very well, especially selling the combination of his worsening state, and his perseverance to not acknowledge he may be on the receiving end of a curse. Peggy Cummins is wonderful as Joanna, a woman who wants to not see Andrews' professor follow the same path as her deceased uncle, so clashes with him in trying to open his eyes to what's happening. She's so vital to this core part of the film, that it's a shame she ends up falling into a tired trope before the end. Core to it all is Niall MacGinnis, deliciously portraying Dr Julian Karswell, the slippery cult leader who positions himself as being the wiser man than the professor, while secretly relishing what's happening. If you haven't seen this yet, I recommend checking it out.
Ginger Snaps
(2000) - 4/5 - An excellent marriage of bodily issues, as puberty and werewolves make for a refreshing take on a tired subgenre.
Worst film of the month: Loqueesha
The Seventh Victim (1943) - 3/5 - Mark Robson directs this story, produced by Val Lewton, about a young woman's search for her missing sister, who has become involved with a group of Satan worshippers. It's an intriguing tale wrapped around an interesting mystery, which certainly held my attention throughout the short running time. But after a gripping try at the waiting game, and a tense chase, I felt it all came apart by the end. The short runtime is a burden by this point, as it rushes to an end without any real resolution, and one end to a characters arc is especially baffling. Reading up on it, there were four key scenes cut, which perhaps made all the difference? Who knows, but for now, the final product left me disappointed by the end of it all.
Ginger Snaps 2: Unleashed (2004) - 3.5/5 - I can't say I was expecting much from this sequel, especially when it glosses over how the outcome of 95% of things from the first films' ending. But this was a pretty terrific follow-up, taking a different direction which is also fascinating, and still treats werewolves like a horrific infection. Emily Perkins shines just as well, as Brigitte is trying to deal with her circumstances, while acting opposite an impressive Tatiana Maslany. This fills the sisterly bond which the first excelled at, while never treading on the same ground. She's a great addition, but I can't say the same about other new characters, such as Eric Johnson's scumbag that apparently has a heart of gold. There's also issues I had with story, such as how the driving force for Brigitte is a random werewolf *just because*, and how one characters fate is left hanging, while disregarding the horrific implications of keeping them alive. In spite of this, it ends in a way I desperately want to see a follow-up to. It may be 16 years later, but I want to see what can come next.
Ginger Snaps Back: The Beginning (2004) - 1.5/5 - Over the past few days, I have been granted first time ciewings of the Ginger Snaps series, and have been pleasantly enjoying what I've seen. It disappoints me to say the third installment doesn't join those films, and what could've been an interesting Elseworlds tale just feels like a waste at odds with the previous films.
The prior 2 films have done interesting things with Werewolf mythology, utilising the creatures to tell stories about real life problems. This does no such thing, feeling like a hollow take on the basic premise, but set in 1815 (with Emily Perkins and Katharine Isabelle returning as new characters, also called Brigitte and Ginger). The dual leads remain as great as ever, deserving something better for their talents. The film just feels like an excuse to have male characters be shitty, while seeming VERY preoccupied on needlessly showing abuse being inflicted to women. Considering the franchises wonderful handling of female characters, this feels two steps back for a series born out of an ingenious film.
Weathering With You (2020) - 4/5 - After the masterful Your Name, I was excited for whatever Makoto Shinkai gave us next. Structurally, it felt very similar to the aforementioned feature, while feeling distinct in its themes, especially the environmental one. The end result is a lovely film which is animated so very well, delivering on the emotional moments, while being centred around an assortment of distinct and wonderful characters (Rain the cat is an instant favourite of mine).

Althought, I must admit to preferring sunshine girl Hina, to our main lead Hodaka. The latter seemed to bring the baggage of lacking subplots, especially a gun crime one which seems to mainly be there for the macguffin. In spite of this, I can't deny that I was emotionally invested in these characters stories, and hoping for it all to end well for them.
The Rhythm Section
(2020) - 2.5/5 - For every interesting step it takes, director Reed Morano's film takes another step towards the less interesting.
Best film of the month: Blindspotting
Best film seen in cinemas: 1917
Best film watched for the first time: Shoplifters
Best film rewatched: Blindspotting
Biggest Disappointment: Bombshell
Biggest Surprise: Ginger Snaps
Worst film of the month: Loqueesha
Number of films watched: 31