We've made it halfway through this drawn out year, and I hope you're all doing well. Thanks to the SoHome Horror Film Festival, I saw quite a few films this month, while also catching some of the latest features, delving further into the horror genre, and revisiting a few childhood faves. So, enough dilly-dallying, here's what I watched this past June.
Spenser Confidential (2020) - 2.5/5 - The partnership between Peter Berg and Mark Wahlberg remains strong, as it continues throughout the former transition from directing adaptations of real-life events, to fictional tales heavy on the action. This feature is a pulpy tale that's all over the place, as disparate elements are thrown together to see what sticks. No matter how obvious or left-field some of the elements become (such as a forced source of tension to lead into the climax), there seems to be a hope it will all come together. The problem is, you can't throw seventeen random ingredients into a pot, and hope that it ends up tasting of chilli. What saves the picture is the chemistry between Wahlberg and Winston Duke, as the pair play off each other really well, and helps the buddy duo element sing. A shame this couldn't be the same about Wahlberg and Iliza Shlesinger, as their on-off romance suffers from the latter being relegated to complaining. Rounding off the cast is Alan Arkin, being entertaining as ever, and an electric as ever Bookeem Woodbine, who really deserves meatier roles than what he's been given so far.
Scooby-Doo 2: Monsters Unleashed (2004) [rewatch] - 2/5 - My recent rewatch of 2002's Scooby-Doo left me pleasantly surprised, as it was a self-referential piece that lovingly poked fun at the popular characters who've been on our screens since the late 60's, which was utterly fun and witty. Perhaps that's because the original cut was aimed at an adult crowd, which allowed the filmmakers to experiment a bit more with the big-screen portrayal of the Mystery, Inc gang. The sequel knows ahead of time it's aiming for a family-friendly crowd, and feels all the more toned down because of it, settling into a more conventional narrative which isn't as fun or delightfully wacky. The antagonists are an array of classic villains, brought alive through glaring CG work, and made to pander to the long-term fans of the series. Spearheading them is a masked antagonist who leaves little impression, whose mysterious identity is a lacklustre way of having the guest stars act creepily, to stoke the fires of which one is behind the mask (before adding a few layers to the mystery which feel unsatisfying). For what it's worth, the main four are as wonderful to watch as in the prior film, suiting the roles very well. Matthew Lillard is once-more the stand-out, making us believe he's interacting with a Great Dane, but remains part of an all-round great ensemble.
Malcolm X (1992) - 5/5 - In chronicling the life of Malcolm X, Spike Lee brings it to life as a sweeping epic with a long runtime, and makes every single minute count. Each of our leads reinventions are superbly captured, showcasing where he was at different points in his life, flowing into one another in such a fluid manner. It all gives a grand idea of who he was, making for an emotional and powerful tale which takes the typical biopic narrative, and twists it into something so unique, and utterly its own. All of which wouldn't work as well without Denzel Washington's powerhouse portrayal, adapting to where Malcolm is at in his life, and making each change feel like another layer to his portrayal.
It's saddening how relevant this feels today, how hopeless it feels that nothing has changed. Still, Spike Lee has delivered an absolute masterpiece of cinema.
By Any Means Necessary: The Making of Malcolm X (2005) - 3.5/5 - An informative and interesting documentary about the making of Spike Lee's film, Malcolm X, and the arduous journey to get it finished. There's plenty to enjoy, as interviewees discuss what it took to get this film before audiences, but it feels like there's more story to be told from the whole process. If anything, a half hour documentary feels like cutting things down for a more palatable runtime, something which Spike Lee didn't want for his film this doc focuses on.
Ocean's Eleven (2001) [rewatch] - 4/5 - My first time revisiting this in nearly a decade, and I find it plays so much better this time around. What Steven Soderbergh has gorgeously captured is an infectiously fun caper that's powered by a terrific ensemble, and even if some of them are thinly sketched, I enjoy the time in their company all the more. I also found myself more invested in the romance subplot, and especially admired how it was woven into the overall heist.
Ocean's Twelve (2004) - 3/5 - Steven Soderbergh's follow-up to his ensemble heist flick is so much fun, as it deals with the fallout from its predecessor, granting a reason for these characters to get back together again. All the while, it works in meta elements (Matt Damon asking for a more central role was enjoyable), and remains so darn fun to watch unfold. Although, even for a heist flick, the plot got a bit too convoluted for my liking, as the mixture of antagonists out against the crew raises, and the plot tries juggling them all in. Also, the ultimate meta aspect, as Julia Roberts' character of Tess has to pretend to be Julia Roberts? Interesting idea, a definite gamble, but it wasn't my cup of tea, ESPECIALLY with throwing in Bruce Willis playing himself. It got a bit too wanky for me.
Best film of the month & Best
film rewatched: Lilo & Stitch

Ocean's Thirteen (2007) - 3.5/5 - After Ocean's Twelve took the series to a more convoluted and meta place (which I still liked, it must be said), this back to basics approach was what we needed. A simple story of the group reuniting for revenge, after poor Reuben loses so much. It's so easy to believe they would do this, as the most consistent thing in the series has been the character relationships, and how much we buy into them all caring for one another. It helps that they're so much fun to be in the company off, especially when we watch them play off each other so very well.
It's a shame Julia Roberts and Catherine Zeta Jones don't return, and add their fun dynamic into this boys club, much in the way Andy García does in his returning role. Although, considering how much Vincent Cassell was built up, only to be wasted, maybe it's for the best. I also didn't care for the plot taking a detour, so the Malloy brothers could stage a strike. Regardless, this was a charming round-off to the trilogy, delivered in stylishly entertaining fashion.
Sea Fever
(2020) - 4.5/5 - A claustrophobic tale of isolation at sea, while being uncomfortably relevant to recent events.
Dogs Don't Wear Pants
(2020) - 4.5/5 - A fascinating exploration of grief, told in bittersweet ways through BDSM.
Bill
(2019) - 3.5/5 - A short film I reviewed for Zobo With A Shotgun, which was tense, haunting, and worth 3 minutes of your time.
Dead Presidents
(1995) - 4.5/5 - A powerful crime thriller about the mistreatment of war veterans, this deserves to be seen by a larger audience
Gremlins 2: The New Batch (1990) [rewatch] - 5/5 - I recall watching this in its entirety as a young child, and being entertained by the film, but never giving it a thought afterwards (except for the Batman reference). Viewing this film for the first time in about 20 years, I'm shocked that I let such a comedic and horrific masterpiece slip out of my memories so easily.
Having been granted Carte Blanche, Joe Dante used the opportunity to bring a Looney Tunes animation to life, in ways that are wickedly humorous, horrific in all the right ways (that Spider Gremlin is haunting), and delightfully meta. When the film reel stops so the gremlins can take over the film, only for Hulk Hogan to threaten them to run the film as normal, it's nothing short of comedy genius.
Best film watched for the first time: Malcolm X

VFW (2020) - 4.5/5 - Directed by Joe Begos, his latest feature is a neon drenched seige flick, drawing on Carpenter's Assault on Precinct 13 to deliver a white-knuckled 90 minutes of War veterans, versus drug crazed hordes. Through the dripping tension, gnarly practical effects, and grizzly kills, we have a great time with this feature, but where it succeeds is with the characters. You believe in eachbcharacters and their relationships, be they new-found or have decades long foundations, and it's all thanks to the tremendous performances. Stephen Lang is great as the bar owner and defacto leader, who must put on a brave face to rally the troops, trying to not let how this is affecting him be shown to the group. For my money, William Sadler is the stand-out.
Inside (2007) - 4/5 -
Well, that's one hell of a way to compromise my hopes for a good nights sleep.
Directed by Alexandre Bustillo and Julien Maury, this French extremity flick is a haunting take on the home invasion subgenre, as a woman finds herself tormented by a strange woman that wants to steal her unborn child. Over 79 minutes, your nerves will be shredded beyond recognition, as the feature flows with impressive gore and disturbing brutalities which leave a mark on your memory. The practical effects are so very well done, that the already iffy CG work suffers even more in comparison. There's also one part VERY late in the film which feels out of place, as though taken from a more supernatural twist on the story. These issues don't detract from how absolutely frightening this feature is, though.
The Emperor's New Groove (2000) [rewatch] - 4.5/5 - Everytime I watch this film, I'm left wondering where the time has gone by the end of it. One of the more underrated films in Disney's line-up, as well-defined character relationships and a hilarious sense of humour make this endlessly rewatchable.
Lilo and Stitch (2002) [rewatch] - 5/5 - No matter how many times I watch Lilo and Stitch, it grants me the same immense joy it did upon its video release. A story about family, and not letting your rage be a full stop on who you are, which, by the end of it all, leaves me with a lump in my throat.
La Coupe Bernard Tapine (2018) - 3.5/5 - And now, I have seen everything directed by Céline Sciamma. This 2 minute documentary is a celebration of love for women's football, the atmosphere it holds for those who love the sport, and contains some arresting imagery within.
Un Chien Andalou (1929) [rewatch] - 4/5 - Luis Buñuel and Salvador Dalí collaborate for this surreal experience which operates on dream logic, proves entertaining, and provides many a haunting image. The opening eyeball slice is rightfully iconic, and an impressive example of the power of editing.
Biggest Disappointment: Ocean's Twelve

Skyman
(2020) - 3.5/5 - Daniel Myrick repurposes many elements which worked in his 1999 phenomenon,
The Blair Witch Project
.
Unusual Attachment (2020) - 4/5 - Filmed in isolation, this short film follows a Cinderella style story, trying to reconnect with somebody he met, but doesn't know their name. What begins with humorous interactions eventually turns horrific, and what Michael Varrati directed is an utterly brill watch.
The Pain Within Us (2019) - 3.5/5 - A tale of guilt, as our grieving lead is haunted by regret and loneliness. A well acted piece that faces the uncertainty of what comes next, and hints that those we lose aren't truly gone, but remain with us long after.
The Fear of Looking Up (2020) - 2.5/5 - If a Death Wish film focuses on the unravelling of its lead, rather than glorifying the violence, you'd get You Were Never Really Here. If it also contained Lovecraftian imagery, and the slow-burn nature burned a bit too slowly, you'd get this film. Director Konstantinos Koutsoliotas crafts this serial killer hunt which blurs the lines between fantasy and reality. Unfortunately, this is undone by the dialogue getting drowned out by background noise in some scenes, especially when located in a store. Although, it's worth noting that Friday Chamberlain is phenomenal in the lead role.
Conversion Therapist (2019) - 3.5/5 - What Bears Rebecca Fonte crafts is a cathartic short, as a ployamorous, pansexual trio turn the tables on a bigoted conversion therapist. The more relatable pains are more effective than when it tries to go larger, but it's a fantastic short to watch.
Innocent Boy (2020) - 2.5/5 - Drenched in neon and set to a pulsating score, Brock Cravy populates his short with poetic dialogue, and manages to craft a world of its own within the span of 11 minutes. It's stylish AF, centred around set-pieces of the violent and sexual kind, but the plot leaves me wanting more. A shame, as there's so much promise within here.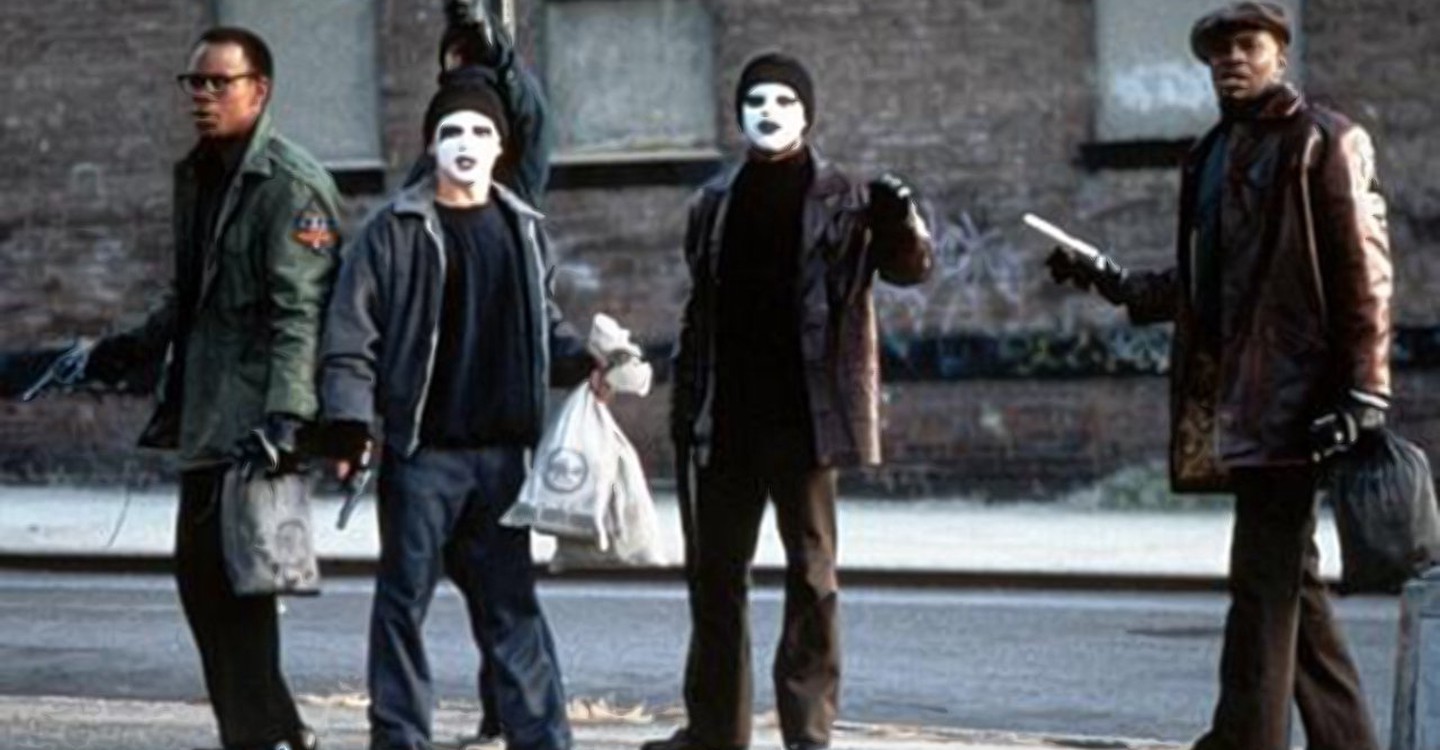 Biggest Surprise: Dead Presidents

Labrys (2019) - 3.5/5 - As B.J. Colangelo directs this tale of two women on a first date, before things go wrong. The budgetary limitations are rather glaring, but when the chemistry is so charming between our leads, it doesn't matter too much. It never outstays its welcome at 7 minutes, and I would happily see more of this pair.
Jeremiah (2019) - 4/5 - Kenya Gillespie based this short on a personal experience, as a young mans fears are personified in the form of an intimidating, masked figure. An effective and engaging short, as we witness how much of an ordeal Jeremiah sees his fears as being.
David's Secret (2020) - 4/5 - An aspiring filmmaker's longing for family comes out in murderous ways, as grisly violence meshes with more fantastical elements, for something enthralling. Take a dash of Peeping Tom, add a touch of The Voices, and a bit of The Talented Mr Ripley, and you have this unique concoction which sticks in the mind. The Brazillian piece feels so one of a kind, and while it can throw up more questions than it answers, this twisty tale is definitely worth your time.
Thirst Trap (2019) - 4/5 - One of the standouts of the festival. Described as a motion selfie, this 4 minute short has a vampire trying to hook-up on a mobile act. Something so entertaining, while succinct at showing how Vampires have been an allegory for the LGBTQ community, and leaves you wanting more.
Tea Parties Are For Babies! (2020) - 3.5/5 - What if Alice was taken down a different rabbit hole, having more boozy tea parties, and to a more sinister kind of Wonderland? This stunning short would be the result, directed by Teja Rose, who has an eye for style.
After Dark (2020) - 3.5/5 - Feature number 3 came in the form of Charlie Steeds' next film, a Vampire film that's drenched in neon and set to a stunning soundtrack. It's set in America, but the settings look distinctly British, that it becomes a bit distracting at times. But even when it gets a bit too theatrical, the feature is so gripping and grisly, approaching my favourite horror sub-genre in an interesting way. For here, Vampirism is used as a release for LGBTQ people, as a space to offer comfort to be who you truly are, rather than putting up pretences to fall in line with what others deem proper. Give it a go, when you can.
Worst film of the month: Scooby-Doo 2: Monsters Unleashed

Demons (2017) - 4.5/5 - Of all the things I expected, my favourite of the festival coming so late into it was not one of them. A macabre love story, as well as a satire, where it's socially acceptable to be a serial killer than it is to be gay. A tale full of much blood-splatter, but is also humorous and heartwarming throughout. What a wonderful surprise.
A Halloween Trick (2019) - 4/5 - The second short Michael Varattis provides to the festival, and it's just as exceptional as his first one. An oversexed party boy keeps his neighbour up each night, although a misunderstanding may prove fatal. Funny, horrific, and gripping, with a tremendous performance from Tiffany Shepis to boot.
Killer Unicorn (2019) - 3/5 - To close off a day of LGBTQ horror shorts and films, we have the best named inclusion. A slasher flick that's glittery, gruesome, and gory, as Drew Bolton directs a fiercely confident feature. Imagine I'll Always Know What You Did Last Summer in a Unicorn mask, with enemas. This feature about a community fighting back to protect their safe spaces is bloody fun, where each character stands out in their own way. Although, some of the characters get on your nerves, and the way it undercuts sad moments with jokes and cheers feels ill timed. Although, this is exactly the kind of fun which you can have after a day full of films.
Never Rarely Sometimes Always
(2020) - 5/5 - A powerful and timely film handled with such grace, and one of 2020's more unforgettable experiences.
Eurovision Song Contest: The Story of Fire Saga (2020) - 2.5/5 - A film which benefits from its committed cast, as Rachel McAdams shines brightly with the same chops that made her such a standout in Game Night, and Dan Stevens' piercing eyes are used to a seductive effect. Will Ferrell isn't in over the top form akin to some of his less notable films, but it doesn't help that the film is driven by his character forcing such unnecessary conflict, which couples with the lacking humour, to make the 2 hour runtime drag on quite a bit. Although, credit where it's due, there songs are earworms, with a song-along standing out as the best moment within the film. Just a shame such energy couldn't have been present much more.
Videodrome (1983) - 4.5/5 - What's been brought to screen here feels so entirely one of a kind, as though it's the most pure realisation of David Cronenberg's unique vision.
A musing on violence, the content we absorb, and technology, brought to life through Rick Baker's exemplary effects, in their grotesque glory.
Long live the new flesh.
Best film of the month: Lilo & Stitch
Best film seen in cinemas: N/A
Best film watched for the first time: Malcolm X
Best film rewatched: Lilo & Stitch
Biggest Disappointment: Ocean's Twelve
Biggest Surprise: Dead Presidents
Worst film of the month: Scooby-Doo 2: Monsters Unleashed
Number of films watched: 36